Jim A. Castle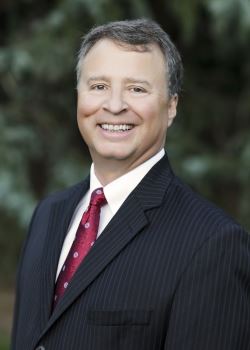 Jim was raised in large Irish Catholic family. With four other brothers and sisters to contend with Jim trained himself at an early age to be an effective advocate.
Jim's father went to law school late in life while supporting a family. Jim was inspired by his father's new profession and strove to match his father's achievements. In college Jim studied economics and environmental science. He was on staff of then Congressman Albert Gore, Jr.. During his law school education he was exposed to the defense of the criminally accused and instantly recognized this was his calling. He sailed through law school and chose to become a Public Defender.
Jim decided to become a public defender as he believed in the constitutional principle that all people deserved a quality defense when the government threatened their freedom. Jim believes very strongly that being a lawyer is a profound honor. Abraham Lincoln and John Adams were personal heroes and both were criminal defense lawyers who mixed their practice with a commitment to serve others.
In his time as a Public Defender he became the youngest attorney at the time to be handed the responsibility of defending a capital death penalty case and the youngest office head in the system. He still holds the record for most trials done while a county court deputy.
After leaving the Public Defender's Office Jim continued to take on the cause of the criminally accused. He takes that responsibility very seriously and has taken on, when requested by the federal or state courts, the toughest and most complex cases in Colorado. This responsibility took on even greater sacrifice when he was called upon by the United Nations to take on the defense of General Momcilo Perisic, Chief of Staff in the Army of Yugoslavia in the second largest international criminal prosecution in history. General Perisic was acquitted of all charges in 2013 and has set important precedent in international criminal law.
Despite these difficult cases the causes Jim enjoys handling the most are those of ordinary citizens who find themselves charged with a crime. He enjoys being their advocate, their spokesman, their defender.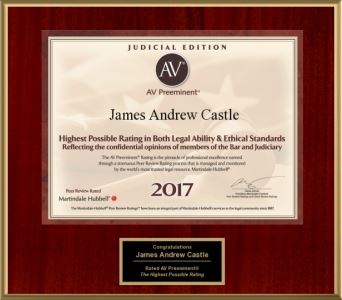 Jim has also represented the National Football League, the Colorado Office of the Alternate Defense Counsel and members of the American Indian Movement.
Jim has been named one of the "Best Lawyers in America" in 2008-2013. Jim has been named one of the "Top 100 Trial Lawyers" by the American Association for Justice and has been selected for inclusion on the 2008-2013 Super Lawyers® lists by 5280 Magazine.
Jim has handled cases that have become the subject of documentaries produced by the BBC, the Discovery Channel and 48 Hours. He has been a nationally recognized expert in criminal defense and has been a guest commentator for CNN, CNBC, Fox News and the New York Times as well as local television stations and newspapers
Jim Castle has been a zealous advocate for the accused for over 27 years.
Jim has received several awards including:
2000 Jonathan Olom Award by the Colorado Criminal Defense Bar (CCDB)- the highest individual award given by the Colorado Criminal Defense Bar "for remarkable personal sacrifice made without regards to personal gain in the defense of the accused.
2001 President Award from the CCDB
2003 Volunteer Lawyer of the Year Award given by the Denver Bar Association
Jim is one of a select few attorneys in Colorado to be designated "Learned Counsel" in the federal courts and the only attorney in Colorado to be appointed by the United Nations to handle international criminal defense cases.
Jim is often called upon to teach his fellow attorneys, was President of the Colorado Criminal Defense Bar, and has been recognized by courts and prosecutors as an expert in criminal defense. He has received the highest national rating for competence and ethics.
Jim is a partner in Castle & Castle, a firm devoted to the defense of those charged with matters ranging from Drugs, White Collar and Violent Crime to Juvenile, Domestic Violence, Vehicular and Property Crimes. His partner in the firm is his wife Liz Castle who he met at the Public Defender's Office in Denver. They share the same goal, to zealously defend their clients with honor and distinction.
Jim's Details
Education:
Bucknell University (77–81)—BS Economics; graduated with honors
University of Denver School of Law (1981–84)—Barristers Cup Fellow
Employment:
Colorado State Public Defender (1984–1992)—served in the Denver, Salida and
Golden Regional offices; Senior Trial Counsel—Salida and Golden offices.
Self-employed attorney (1992–present)
Honors:
2001 Jonathan Olom Award given annually to one attorney by the Colorado
Criminal Defense Bar for extraordinary dedication and achievement without regard for personal gain.
2003 President's Award given by the Colorado Criminal Defense Bar.
2005 Denver Bar Association "Volunteer Lawyer of the Year" Award.
2015 St. Thomas More Award by the Colorado Catholic Lawyer's Guild. The award is given by the Catholic Lawyers Guild of Colorado to individuals who exemplify the intellect, integrity, and moral courage of St. Thomas More in service to God, family and profession.
Professional Affiliations (past and present):
Colorado Criminal Defense Bar—2002–3 President, Board member from 1998–present
Colorado Bar Association
National Association of Criminal Defense Lawyers
American Trial Lawyers Association
International Criminal Defense Bar
Association of Defense Counsel Appearing Before the International Criminal Tribunal for the Former Yugoslavia
International Criminal Court—List of Counsel to Appear before the ICC
Faculty of Federal Advocates
District of Colorado Federal Criminal Justice Act Panel Attorney—Capital Case
Learned Counsel
Catholic Lawyers Guild
Published Articles:
Colorado Rules of Evidence: Using the rules to win cases—Colo. Public Def. Annual Conf—1991
Jury Nullification; Trial Talk—April 1992
Florida Trial Lawyers Journal—Sept. 92
Alternate Suspect Defense—Colo. Crim. Def. Bar- 1997
Voir Dire—Colo. Crim. Def. Bar- 1998
Closing Arguments—Colo. Crim. Def. Bar—1999
Opening Statements- Colo. Crim. Def. Bar—2000
Cross examination of the informant witness-Colo. Crim. Def. Bar—2001
Motions practice: Strategies and unconventional use Colo. Crim. Def. Bar—2000, 2002
Mental Health issues—Colo. Crim. Def. Bar- 2003
Creative Use of the Rules of Evidence—2004
International Criminal Tribunals—Colo. Crim. Def. Bar 2006
Lectures:
Alternate Suspect Defense—Colo. Crim. Def. Bar—1997
Voir Dire—Colo. Crim. Def. Bar—1998
Closing Arguments—Colo. Crim. Def. Bar—1999
Opening Statements—Colo. Crim. Def. Bar—2000
Cross examination of the informant witness—Colo. Crim. Def. Bar—2000
Motions practice: Strategies and unconventional use Colo. Crim. Def. Bar—2000, 2001
Death Penalty law—University of Denver School of Law—2001
Motions practice: Strategies and unconventional use Colo. Crim. Def. Bar—2000, 2002
Mental Health issues—Colo. Crim. Def. Bar—2003
Creative Use of the Rules of Evidence—Colo. Crim. Def. Bar—2004
International Criminal Tribunals—Arraj Inns of Court—2005
The International Criminal Court—Colo. Crim. Def. Bar-2005
International Criminal Tribunal—Colorado Bar Association, International Law Section—2006
International Criminal Defense—Minoru Yasui Inns of Court—2008
International Criminal Defense—University of Colorado School of Law—2008
Unusual uses of the Rules of Evidence—Colorado Criminal Defense Bar—2010
Introduction to the Practice of Law—Colorado Bar Association, Young Lawyer's Division—2010
University of Denver Sturm College of Law, Symposium—"Neuroscience & Criminal Law"—March 2011
MacArthur Foundation Research Network on Law and Neuroscience- Lecture onpractical use of neuroscience in criminal cases- June 2012
Colorado Juvenile Defender Coalition- Expert witnesses- October 2013
Ethics and Experts- Colorado Bar Association- 2014
Cross Examination of Experts- Colorado Criminal defense Bar and Alternate DefenseCounsel – 2015
Wiretap Discovery Practice- Administrative Office for the U.S. Courts- to be given- January 2016
Other Experience:
International Criminal Court—selected on List of Counsel to practice before the International Criminal Court.
International Criminal Tribunal for the Former Yugoslavia—United Nations appointed lead counsel for Momcilo Perisic, chief of staff of the Army of the former Yugoslavia. 2005–2008
Martindale Hubbell—AV rated
Martindale Hubbell Judicial Edition Award
Best Lawyers in America" in 2008-2016
American Trial Lawyers Association—"Top 100 Trial Lawyers"
Super Lawyers® by 5280 Magazine, 2008-2015
Other interests:
Former semi-professional soccer player and currently coaches his daughter's team
Marathon finisher
Completed two Ride the Rockies bike rides
Avid sports fan