Lisabeth Pérez Castle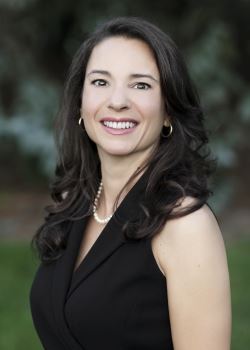 Liz was born in the tough South Bronx of New York City. She was born to two Cuban immigrants who strived to raise their family in the United States in order to bring all of them a better life. As her parents worked to become citizens Liz grew up and succeeded beyond her parents' wildest imaginations. Liz was the first in her entire extended family to receive a post-graduate degree! Liz is completely bilingual in English and Spanish.
When Liz became a lawyer, she could have taken a job with a big civil firm. Instead she decided to give back. She took a job as a deputy public defender so she could help out poor people who found themselves accused of a crime by the government. As a public defender, Liz took on numerous serious cases.
She was a senior lawyer and supervisor in the then experimental Denver Drug Court. She was also instrumental in working to bring a child care facility to the Denver courts so that children who were required to attend court with their parents could find a warm, safe and fun place to be rather than be exposed to the sadness that frequents courtrooms.
Liz's dedication and success has been recognized through the many requests she has received to serve the bar and the Courts. Liz was president of the Alfred Arraj American Inns of Court, a director of the Denver Bar Association and a board member of the Colorado Hispanic Bar Association. Liz has also served as a lecturer for the American Bar Association to teach foreign national attorneys and judges the U.S. system of justice. Liz has also served as counsel to the Mexican Consulate.
Liz brings compassion and understanding to her work. She understands that a criminal case is often the most profoundly impactful event in an individual and family's life. She is also aggressive and tough when needed.
In her spare time, Liz raises the family's four children and runs marathons. She has completed the Marine Corp, New York City and Chicago marathons (twice).
Liz's Details
Education:
University of Denver School of Law—JD (1985–88)
University of Northern Colorado–BA history (1981–1985)
Employment:
Colorado State Public Defenders (1988–2000)—served in the Denver, Durango and Brighton Regional offices; division lead Denver Drug Court 1998–1999.
Self-employed attorney (2000–present)—criminal practice in both federal and state courts
Positions Held:
President Alfred Arraj Inn of Court, American Inns of Court
Elected Member of the Board of Directors—Colorado Hispanic Bar Association
Board Member of the Board of Trustees—Denver Bar Association
Counsel to the Mexican Consulate Denver, Colorado
Professional Affiliations (PAST and PRESENT):
Colorado Criminal Defense Bar
Colorado Bar Association
Colorado Women's Bar Association
District of Colorado Federal Criminal Justice Act Panel Attorney
Colorado Hispanic Bar Association—Board member
National Hispanic Bar Association
Denver Bar Association
Other Experience:
Curso Sobre Litigacion Oral—ABA Rule of Law Initiative—Ecuador—2010
Indigent Defense—Lecture University of Colorado School of Law–2007
Cultural Conflicts—State and Federal Pretrial Services—2003
Federal Practice—2002 Colorado Criminal Defense Bar CLE
Constitutional Considerations in Domestic Violence Cases—2001 Colorado Criminal Defense Bar CLE
Evidentiary Objections—1999 Colorado State Public Defender Training
Voir Dire—1997 Colorado State Public Defender Training
Controlled Substance Case Defense—1997 Colorado State Public Defender Annual Conference
Immigration Consequences of Criminal Pleas—1996 Colorado State Public Defender Annual Conference
Demonstrative Evidence—1995 Colorado State Public Defender Annual Conference